Testimonials
---

Bilingual strives to create unique, unisex pieces.
Our goal is toprovide the highest level of customer service to all customers. Hear what our customers have to say visit our newtestimonials partner
here
or the read the comments below ....
MEET THE DESIGNER
Marta Niegowska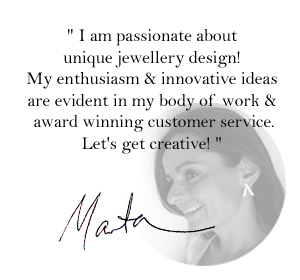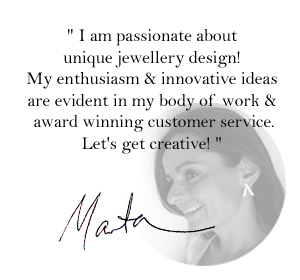 MEET THE DESIGNER
Marta Niegowska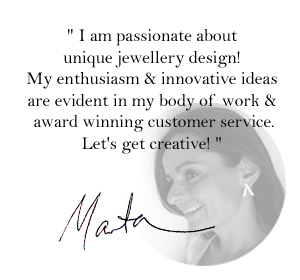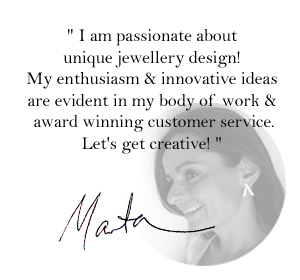 "I love contemporary jewellery that is different and beautifully designed, so when I arrived at Paddington Markets in Sydney recently and noticed the Bilingual stand I was immediately attracted to the gorgeous pieces. The Back to Basics C was the right ring for me. I wear it almost everyday and am often with other designers who can't stop looking at it on my hand and have to try it on to see how it fits. Apart from the very clever and stunning design the best part is that it is extremely comfortable, which I love!"
Jan Dulwich Hill, Sydney
Our custom made wedding bands from Bilingual are beautifully made and the personal touch added in the design means the world to us. The service has been exceptional and personal from start to finish. Our one worry, living on the other side of the world, was always that the sizes would not be quite right, but the advice and guidance from Marta put our minds at rest and the rings fit perfectly.
Mhairi, Glasgow Scotland
Marta, I didn't realise that you designed a lot of the pieces. Amazing stuff! No wonder your customer service was so good.
All the best,
Jon, Hornsby
For our 6 year anniversary, my partner and I had decided to invest in a pair of matching silver rings. We already had a pair from our 2 year anniversary, but we had such problems getting the jeweler to get the same model and in the end we were very unimpressed with the final result. So understandably we had some trepidation this time around and really wanted to do our homework to look for something unique and meaningful. We first encountered Marta and Paddington Markets and were very impressed with the interlocking rings (we settled on the "Destiny" design). From our first appointment to the final product, Marta was extremely accommodating and prompt in responding to our queries and requests. She was extremely helpful with several suggestions to slightly augment the designs to suit our particular hands (my partner having quite larger hands than me), as well as with the engraving (luckily we were able to fit our original request inside the ring!).
We are extremely happy with our rings, and get plenty of wonderful complements not only on the distinctive and simple design, but also the novelty that they lock together (that aspect always gets a resounding "ohh" and "ahh" upon demonstration!). Moreover, we have recommended Bilingual to our friends and colleagues (and continue to do so), and would not hesitate in purchasing another product from your stunning range.
We wish Bilingual all the very best, and want to extend our thanks once again for your wonderful and extremely professional service allowing us to have a perfect remembrance for our anniversary.
Louise Sydney.
Just wantedto let you know that the rings are spectacular, we wear them on daily basis. Next time I have another special ocassion to share with my sweetheart, I'll contact youfor other jewelry options. Thanks for your support, the great experience andkuddos to you and your team.
Nesny Texas, USA
Well what can I say.. I bought the 'Destiny' set. Love it! Theyrefantastic.I bought the set for my birthday.
Thanks guys.. love your work
Simon Zetland, Sydney
Dear Marta,
I bought one of your rings at the Brisbane Markets this morning and I just wanted to say how delighted I am with it. I used to wear a number of rings (three sets of the interlocking ones) but when I got rheumatoid arthritis while working in Korea a few years ago my hands swelled so much I had to have them all cut off - and I have missed them. so, I was thrilled to find your this morning. One that I could fit them on, and two, that they were such interesting and different designs.
so, my thanks
Libby Brisbane
Iadmire how Salvatore took the time to meet me to show me the collection first hand before I chose a design.I love that it is one of the most unique pieces of jewellery I own, plus when ever I look down at it I also think of Daniel. Many have commented on the ring itself, and when I explain the story of the interlocking rings behind the design many other people (especially students - I study design at uts) are extremely intrigued and in awe of such a clever concept!
Danielle Hornsby, Sydney
my name is janina - i have recently got married and am enjoying the fantastically designed momento ring with my wonderful husband. In some ways it is a shame that i am already married, because an info pack questionnaire sounds like lots of fun. haha

Janina Charlestown, Newcastle
I purchased three bilingual design rings last year and have been very happy with the products, the processes and the price. Like all bilingual rings, mine were made from wax moulds and personally fitted. I managed to smuggle one of my wife's rings so that a surprise one could be made for her too. I have recommended bilingual design to friends and comrades. Why do I recommend Bilingual Design? It's easy!

1.Quality. The rings that I have bought have been of outstanding quality. The silverwork is expertly finished and my interlocking 'instinct' rings slide together with precision. I wear them separately sometimes but, mostly together.

2.Design. I have not found such innovative, contemporary and comfortable rings elsewhere. I like the solidity of my rings but they are sleekly strong and not chunky or unwieldy.

3.Process. The care to ensure that the rings were made to fit my finger the development of wax prototypes and the exchange of information with the makers ensured that my rings feel moulded for my finger. And they were! I had not experienced this elsewhere.

4.Value. The cost of getting personally made rings was on a par with other readymade jewellery. I got something specially mine at a very reasonable price.

Jim Dellit, WEST HINDMARSH SA
Hi Bilingual
Thank you very much for your help and for the great service you provided. The order arrived in plenty of time, it fits perfectly and most importantly, my daughter-in-law absolutely loves it.
Anne, Brisbane
Hi Marta,
I picked up my ring today. It's awesome I love it. Fits perfectly on the two fingers I wanted it to. Thanks for all of your help.
Josh, Mosman NSW
"I met the love of my life in 1985 when I was 14 and he was 16, but, life has a funny way of sorting things out for you and after 4 years together we went our separate ways.

Thanks to the wonders of modern technology he found me again in 2010 and in an even stranger twist of fate we both found ourselves available, me after a long marriage and he after again not finding 'the one'. After many skype chats, ridiculous phone bills and many hours we realised our connection, 22 years down the track, was stronger than ever. In an effort to show how special this new beginning was for us both and for our re-ignited relationship he went looking for rings that would remind us of how lucky we were to have found one another again.

And, that is where Bilingual comes in to the story. Through the Finder Keepers Market information, he found the Bilingual designs and from the moment he saw them decided on where we had to get our rings from. We met Marta at the Brisbane market, chose the Facet design this suited us as it allowed him to have a very masculine and 'robust' piece that sat snugly with the natural flow of the hand and conversely having significantly smaller hands a ring that could be worn alongside my existing jewellery and not look out of place - and placed our order. Things could not have been easier - despite the distance Marta advised us of the ongoing status of the order and accommodated our very specific needs. All of this was achieved in a very short turn around time.

We both love the innovative designs and look forward to dealing with Marta in the future when we 'need' other pieces of jewellery to signify milestones in our relationship."

Alana, Brisbane
Bilingual provided a personally tailored service, in order to best meet my design request. I was consulted throughout the process, honest feedback was provided and all concepts considered.

Staff were very flexible in arranging face to face or over the phone meetings throughout the process, in order to meet my needs, and regular contact was maintained via email.

The design process included adequate points to trial and clarify the design concepts. The opportunity to try on a wax version of the ring really helped to solidify my understanding and expectations of the final product.

Overall, Bilingual provided a prompt and personal design process, resulting in a creative and individual product. I often get asked about my ring, and many people are amazed at the originality of the design concept in such a personal piece of jewelry.

Natalie, Newcastle
Hello Marta!
We have received our rings and LOVE them! They are exactly what we wanted and were hoping for. We want to thank you for your time and service; we couldn't have asked for a better company to do business with for this matter. The rings are perfect & it was a pleasure to work with you. You kept us updated, answered all of our questions quickly. Customer service was excellent. Very nice company, excellent service and stellar product!
Thanks,
Jennifer and Angi
West Lafayette, Indiana USA
Thank you to Marta and her team at Bilingual.
From the initial contact through to the finished product
their service was prompt and went above and beyond
normal customer service. They listened to our ideas
and customized my partners wedding ring to suit his style and
purpose. I would highly recommend Bilingual!
Sam , Perth WA
Ifound the process of consulting with Bilingual highly stimulating over the whole period we worked on the design of my custom neckpiece. Their willingness to cater for my most precise instructions was a vital part of the creative process. This led to the final design and manufacture of a stunning& unique piece of craftsmanship of the highest order at a very reasonable price. It was a pleasure doing business with Bilingual.
Bob, Epping NSW
Absolutely thrilled with the service that Marta supplied - and the amazing ring I purchased for my now fiance! I wasn't sure of the size so I had to guess (because I wanted it as a surprise when I popped the question while we were away in Berlin - it ended up being the incorrect size but Marta was amazing in terms of allowing us to send in back and forth until we got it right - and offering suggestions in terms of design and getting it to lock perfectly - it is without doubt the perfect ring for us (destiny set) and we couldn't be happier - talk about going out of your way for a customer - amazing - I would recommend Marta and Bilingual Design to everyone!!!
Mark Crees, Melbourne
Hi Marta
I had to write to extend my thanks to you and all the staff at Bilingual. I received my family tree yesterday and am overwhelmed by just how good it is. I cannot thank you all enough, the final result goes beyond my expectationsI will not hestitate to recommend Bilingual to my family and friends.
Kind Regards
Kim Kay , Sydney NSW
Big thank you for the salvation ring I am thrilled. We both wore them out on Saturday night and couldn't help feeling very special and they drew comments of interest from our friends.
Mark, Stanmore NSW